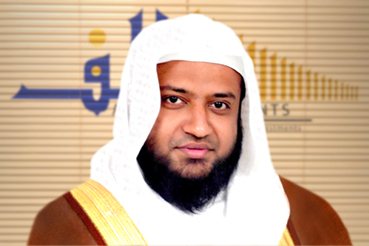 SHEIKH QARI SAAD NOMANI
admin
MUFTI - SHARIAH ADVISORY BOARD
99 Qaris in 1 Man-Teacher at Masjid Nabawi Shareef, Madina. His unique quality is his ability from Allah to be able to emulate the recitation of the Holy Qur'an in the manner of world famous Qurra' (reciters) including the Imams of the Haramain in Makkah and Madinah. To date he can simulate the recitation of 99 different Qurra.
Sheikh Saad Nomani has studied under the greatest tutors in Saudia Arabia, from Sheikh Muhammad Abdul Maajed Zakir (Senior Qari from Riyadh) to many world renowned Qurra', including Sheikh Abdur Rahman Al Sudais, Sheikh Ali Jaber and Sheikh Salih bin Humaid (Imams of Makkah).
The Shaykh has received awards from the Governor of Makkah (1996) and Medina (1998) for his heart rendering recitation of the noble Qur'an. He is currently the head and director of several organisations around the world.
Dr. Abdullah Omar Nasseef (President of World Muslim Congress) 2006
Sheikh Abdullah Bin Abdul Aziz Al Rajhee ( President of Al Rajhi Group Kingdom of Saudi Arabia) 2007
Mr. Jawaid Ali Khan (President of the Islamic Foundation of Toronto, Canada) 2008
Vice Admiral Saleem Akhtar Meenai HI (M)(Commander of Pakistan Navy, Karachi) 2009
Dr. Ishrat-ul-Ibad Khan (Governor of Sindh ,Pakistan) 2004